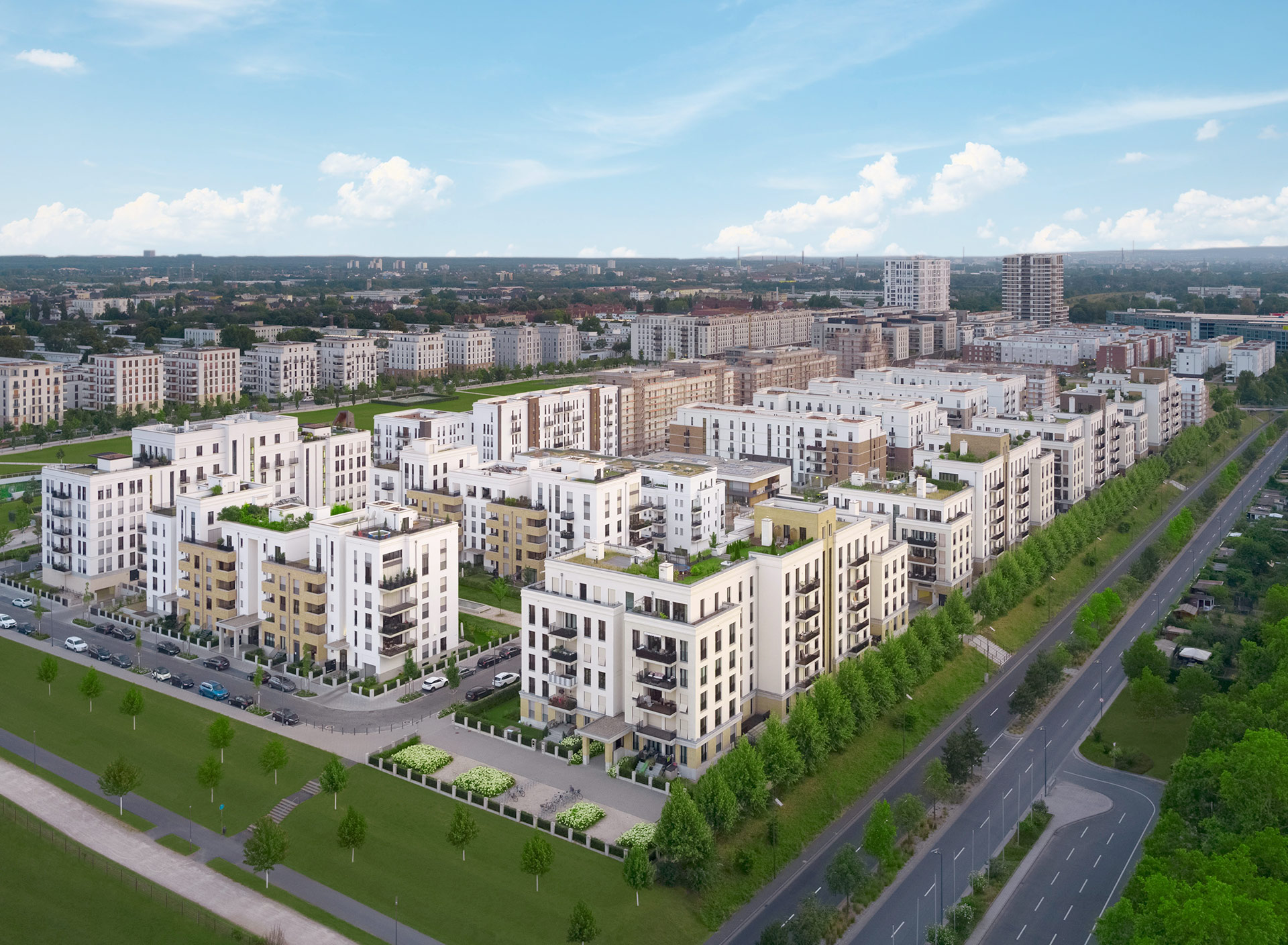 neighbourhood development
Integrated neighbourhood development
the town within the city
Integrated urban quarters, as already designed by P+B Group, form a qualitatively new type of innovative urban quarter. They are characterised by an intelligent combination of living and working - integrated into a holistic urban context. It is precisely this mix of different types of housing, commercial and local supply areas, a range of open spaces and meeting places as well as educational, cultural and leisure facilities in a neighbourhood of short distances that creates synergies for residents and users. Future-oriented neighbourhood development is a strong response to the megatrends for our cities and society: With innovative energy, mobility and digitalisation concepts as well as diversified housing offers including subsidised housing construction, it makes a future-oriented contribution to coping with climate change and the energy transition as well as to securing social cohesion
Subject of neighbourhood development
the integrated urban district
In the past, the word neighbourhood was often used in quite an ambiguous way: Larger projects consisting of several buildings were already considered as such. The respective core uses and their synergetic importance were not taken into account.
A new understanding of the quality of the neighbourhood concept is now crystallising more and more. The integrated urban quarter clearly stands out from the conventional projects that have been realised in various forms for decades. The neighbourhood development of this generation differs in particular in the complex utilisation structure, the resulting synergies and a whole range of innovative structural elements.
The new approach provides benefits for the various stakeholders: Both residents and users receive a higher standard of quality of life and quality of stay. Forward-looking and sustainable new living and working environments are being created for the environment, society and communities. Finally, investors benefit from risk minimisation due to asset diversification and the implementation of the increasingly important ESG criteria, i.e. Environmental Social Governance requirements.
P+B Group is currently designing such an integrated urban district development in Neuss, for example: On the approximately 50,000 square metre conversion area of the former Rheinische Schrauben- und Mutterfabrik Bauer & Schaurte, a mixed, social and sustainable urban quarter with a future-oriented concept is being built in the middle of the city centre and directly next to Neuss' main railway station.
Predominant typologies of neighbourhoods
The mix of uses is a main feature of the neighbourhood concept, but the proportions of the different areas can vary and individual uses can also dominate. So far, the following typology has been developed in particular:
the classic quarter
with a mix of residential, commercial and retail uses
the commercial quarter
with mostly over 90 per cent commercial use
the residential quarter
with a residential share of over 90 percent
An example of the latter is the multi-award-winning Parkend in Frankfurt's Europaviertel with 812 flats and related uses, which P+B Group realised between 2011 and 2019.
To the references
Optimal design of core uses through neighbourhood development
The following areas of use are individually designed and interconnected as part of the neighbourhood development in order to implement the innovative concept of the urban quarter.
In addition to privately financed, affordable and subsidised housing as well as concepts for senior citizens and multiple generations, newer forms such as micro-living and co-living can also be part of the range of offers.

Commercial uses include traditional offices and services, co-working and, in individual cases, non-interfering manufacturing.
Traditionally, the retail sector is dominated by a comprehensive local supply for residents and users, but also for the neighbourhood's immediate surroundings. In addition, there is catering and, where applicable, hotel business.
Complementary uses in the context of neighbourhood development
The mix of uses in the quarter aims to generate synergy effects. In this sense, neighbourhood development also conceives the individual shaping and prioritisation of the following complementary uses in addition to the design of the core uses.
Social infrastructure
In the area of social infrastructure, educational facilities such as daycare centres and schools, health and care facilities and meeting places for young and old are possible types of use that can be implemented by neighbourhood development.
Transport infrastructure
In the neighbourhood context, transport infrastructure includes external and internal access, public transport connections, neighbourhood garages and services such as bike and car sharing. Depending on the size of the neighbourhood, suburban railway or underground stops can be integrated.
Cultural facilities
Cultural institutions create added value for the residents of the entire city beyond the boundaries of the neighbourhood. Their inclusion in neighbourhood development offers the possibility of responding flexibly and temporarily to specific needs.
Leisure and recreation
These include primarily sports areas as well as green and open spaces. They also serve social integration and make an important contribution to upgrading the quality of life and leisure in a neighbourhood. With such a mix of uses, sustainable synergies are generated for the residents and users of the neighbourhood with the help of neighbourhood development.
Telefon: +49 2241 936920
E-Mail: info-web@pplusb.com

The concrete selection, prioritisation and design of the uses are also dependent on
the local framework conditions, in particular the respective municipal mission statement,

the building regulations,

the location and size of a property,

the neighbourhood environment and

the needs of the future residents and users of the neighbourhood
. In an iterative process of neighbourhood development, they must be condensed into a holistic, demand-oriented and, above all, economically viable utilisation concept.
Key sustainability parameters for neighbourhood development
In addition to the different core and complementary uses, sustainable neighbourhood development must take into account a multitude of other parameters and integrate them into a comprehensive neighbourhood concept.
Energetics
The focus here is in particular on a usually very complex and cross-property energy concept for the neighbourhood, which ensures an extremely low-CO2 or CO2-free energy supply. For example, depending on the site-specific conditions, photovoltaics, geothermal and waste heat utilisation up to the most modern energy sources such as green hydrogen and innovative insulation systems are used.
Mobility
An integrated neighbourhood with a distinct mix of uses is basically equipped with short distances: All central facilities are within walking distance. This means that longer distances can be avoided. Nevertheless, good connections to the surrounding area and well thought-out internal development are important.
The decisive factor here is in particular a neighbourhood development with a low-emission mobility concept that is as digitally controlled as possible with the aim of reducing motorised private transport to the point of a car-free neighbourhood. Concepts such as a well thought-out modal split, job tickets, bike and car sharing, e-mobility and a continuous cycle and footpath system that links the area with the higher-level path system of the surrounding area are profitable for neighbourhood development.
Digitisation
Smart digital solutions are not only used in innovative energy and mobility concepts. They support the residents and users of the neighbourhood, for example, with a neighbourhood app for booking a wide range of services and neighbourhood offers. Such an app can also be a social network and thus contribute to integration and identity building in the context of neighbourhood development.
Urban planning and architecture
Well thought-out urban development and high-quality architecture lend urban quarters their individuality and create identity. The revitalisation and conversion of existing historical buildings can also contribute to the creation of identity. A clever urban design interplay of public and private spaces in the neighbourhood increases the quality of life and stay for the residents and users. Urban planning and architecture are also relevant to the climate, for example with regard to the consideration of cold air corridors for the ventilation of the neighbourhood and generous green spaces and water areas as well as green roofs.
P+B Group
Genker Str. 2–4
53842 Troisdorf
Telefon: +49 2241 9369-20
E-Mail: info-web@pplusb.com
Resilience
This topic is becoming increasingly important in neighbourhood development: It refers to adaptability and flexibility in the face of changing conditions or unforeseen events. One example is the sponge city. This is a concept of urban planning to absorb and store rainwater locally instead of simply channelling and draining it. This prevents flooding during heavy rainfall events.
Resource conservation
Inner-city neighbourhoods are often created as conversion projects on brownfield or underused sites, and in this way alone contribute to a sparing use of land. The use of renewable raw materials in the construction itself is becoming increasingly important, as is circular construction according to the cradle-to-cradle principle, which relies on the reuse of building materials as a valuable resource.
Neighbourhood management
An efficient neighbourhood management should already be prepared during the planning phase, which does not focus solely on administrative functions. Essential aspects of neighbourhood development are, for example, measures to strengthen social integration as well as identity formation and the development of a community spirit.
Similar to the conception of a well thought-out mix of uses, it is also important here for neighbourhood development to first examine the different and sometimes conflicting parameters (for example, photovoltaics vs. green roofs) in detail for each site and project, to weigh them up and to condense them into a coherent holistic concept that is ecologically forward-looking and at the same time economically viable.
A complex development process with many stakeholders
The planning of an integrated urban quarter in the context of neighbourhood development is a highly complex process in which the project developer not only has to develop an overall concept for a location in an iterative process based on legal requirements. Rather, this development process is integrated into a tight network of different stakeholders. This ranges from local administration and politics to future residents, users whose needs must be anticipated, neighbours, interest groups and the requirements of investors.
This is a process of balancing interests between numerous stakeholders, which requires the facilitation and management of many discussions and negotiations. The goal is a result that is ecologically forward-looking and economically viable. Neighbourhood development is an efficient concept that is up to this challenging core task.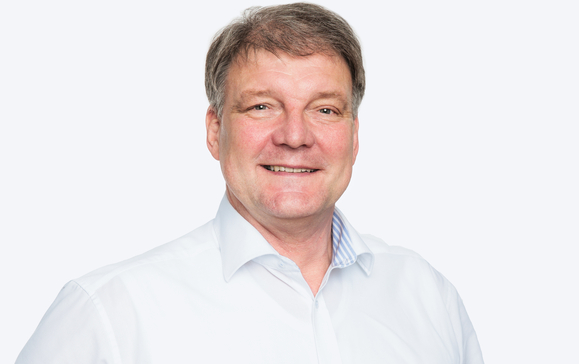 P+B Group
Genker Str. 2–4
53842 Troisdorf

Phone: +49 2241 936920
E-Mail: info-web@pplusb.com
P+B Group
Genker Str. 2–4
53842 Troisdorf

Telefon: +49 2241 936920
E-Mail: info-web@pplusb.com