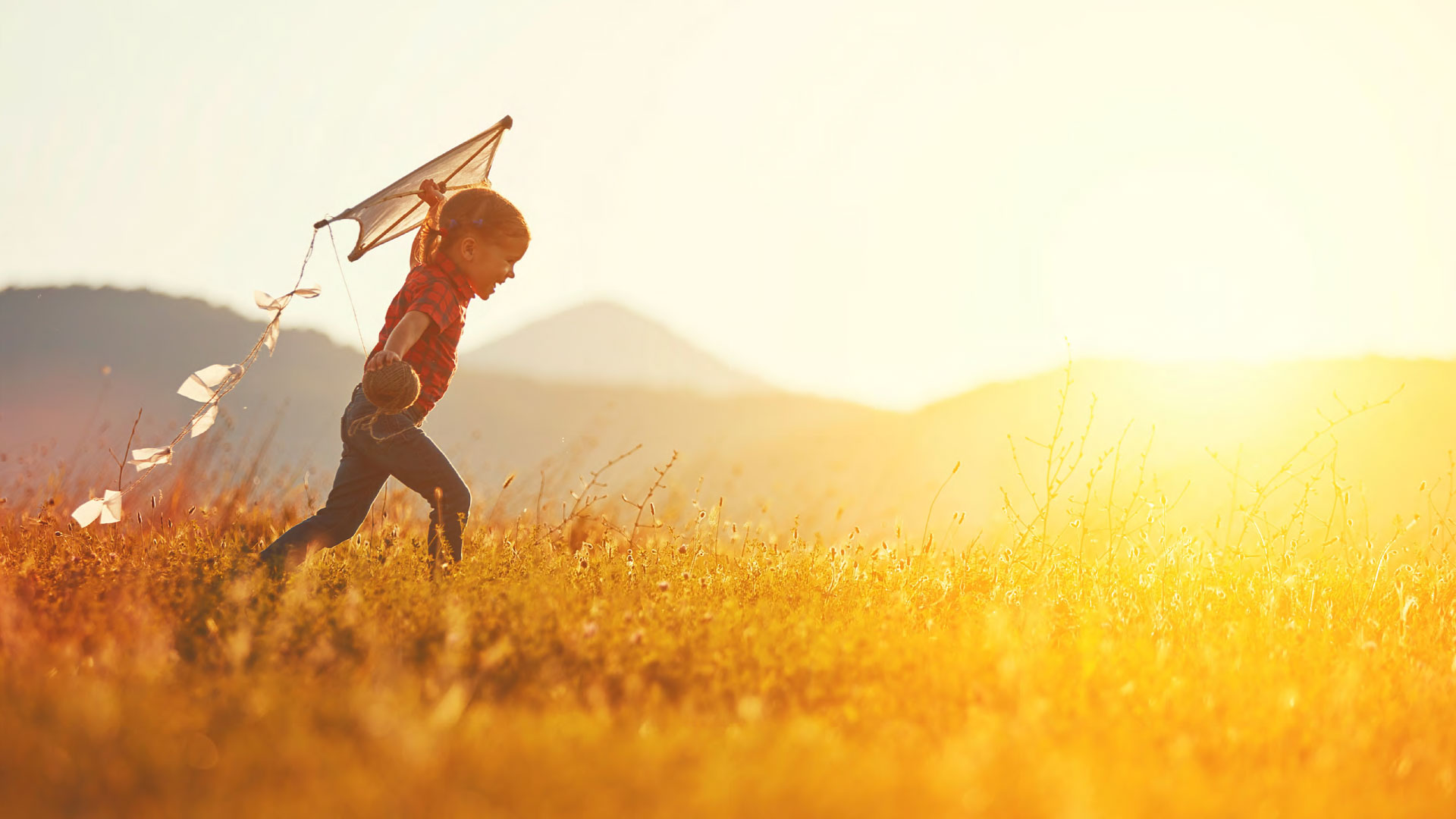 NEIGHBOURHOOD DEVELOPMENT Neuland®
Made by P+B Group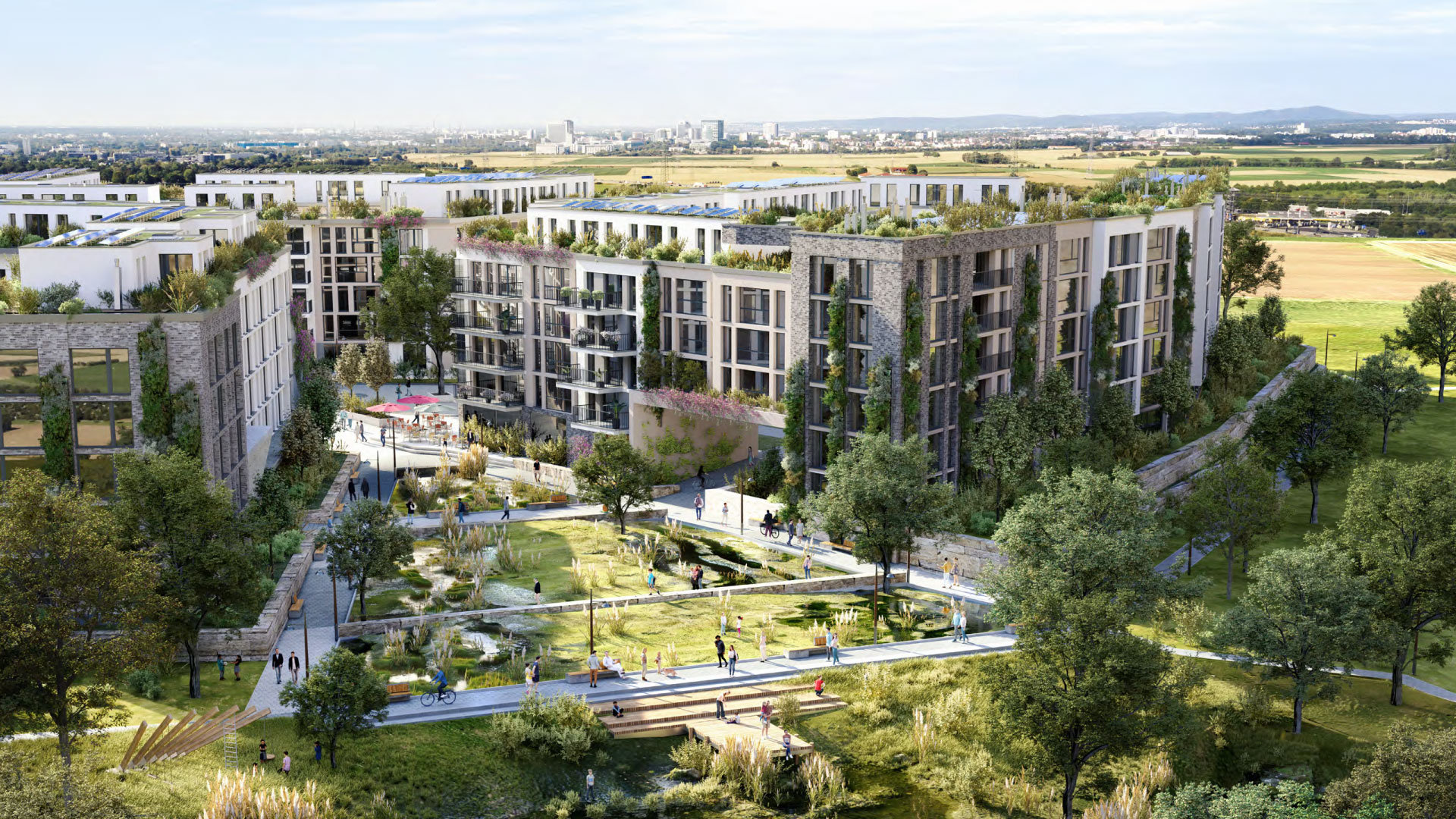 NEULAND®, made by P+B Group
THE URBAN QUARTER MADE FOR GREAT-GRANDCHILDREN: ECOLOGICAL, SOCIAL, DIGITAL
The challenges for urban development are enormous: Climate change and scarce energy, little land but a great need for housing, demands for social mixing as well as networked mobility. P+B Group has developed an innovative concept that provides. answers to all questions concerning the development of future-oriented urban quarters.
The The name NEULAND says it all, because with its unique concept, P+B Group is entering "new territory". The individual building blocks of the NEULAND neighbourhood concept are not new in themselves. What is innovative, however, is the integral pillarisation of the individual modules into an intelligent overall concept as well as their well thought-out and flexible adaptation to the respective site conditions.
The 12 guidelines of the NEULAND neighbourhood concept range from the use of conversion areas, climate-adapted urban development and CO2-neutral energy supply to a wide-ranging mix of uses and social blending- and all this in a neighbourhood of short distances with networked mobility.Our quarters are built according to the cradle-to-cradle principle.
THE HUMAN BEING IN FOCUS
Not only are the innovative urban quarters of the NEULAND brand ecological, social and digital - they are planned to be "made for our great-grandchildren". This is because P+B Group does not only have the people of today in mind, but also those of future generations. With its ESG-compliant NEULAND brand, P+B Group is turning urban districts into the real asset class of the future..
NEULAND NEUSS: The P+B group of companies is realising the first reference quarter on the site of the former Bauer & Schauerte screw factory in the city of Neuss on the Rhine. With QUARTIER 15 , yet another NEULAND brand project is currently in being planned in Frankfurt-Praunheim.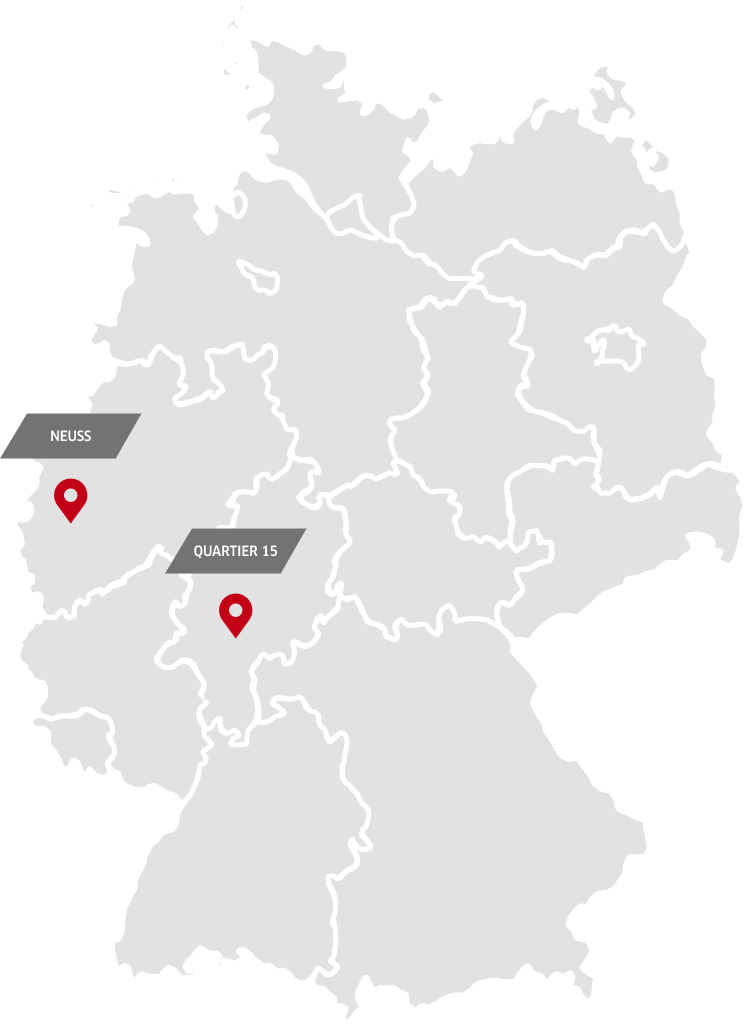 "WE ARE DEVELOPING URBAN DISTRICTS THAT ARE MADE FOR OUR GREAT-GRANDCHILDREN:
THEY'RE ECOLOGICAL, SOCIAL, DIGITAL."
GERD HEBEBRAND, MANAGING PARTNER OF P+B GROUP
12 Guidelines of P+B Group for futureproof neighbourhoods
1
We plan and build urban districts primarily on conversion siteswith careful consolidation and sensitive urban densification, generous open spaces and reduced land consumption.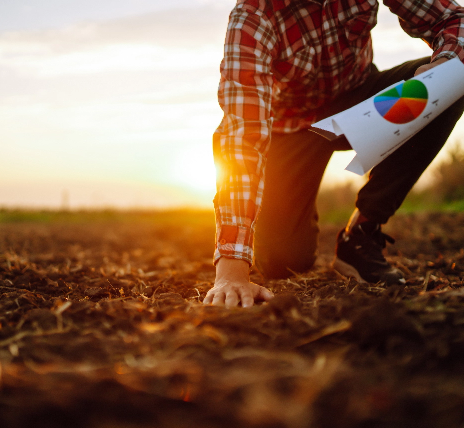 2
The locations of our neighbourhoods are very well connected to public transport. They are being developed as low-car or car-free, with e-mobility, sharing offers and mobility hubs, as well as green pathways for pedestrians and cyclists.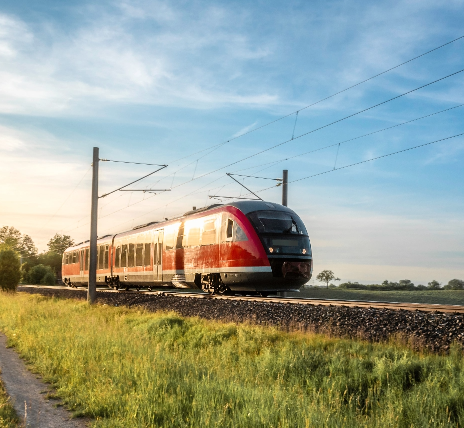 3
We are not developing dormitory towns, but urban and lively neighbourhoods with a mixture of uses including living and working. This ensures short distances and thus also the avoidance of traffic.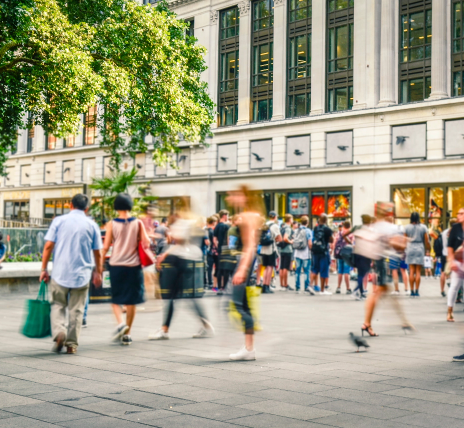 4
Local amenities, social facilities such as daycare centres and meeting places for the young and old, play and leisure facilities as well as restaurants and co-working spaces are an integral part of our neighbourhoods.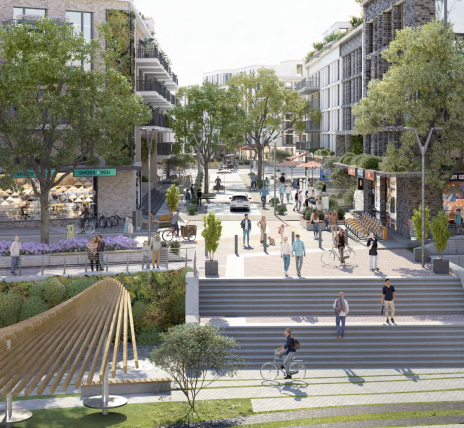 5
We ensure a social blending with subsidised, affordable and privately financed housing or offers for building groups and cooperatives, as well as by offering rental and owner-occupied flats.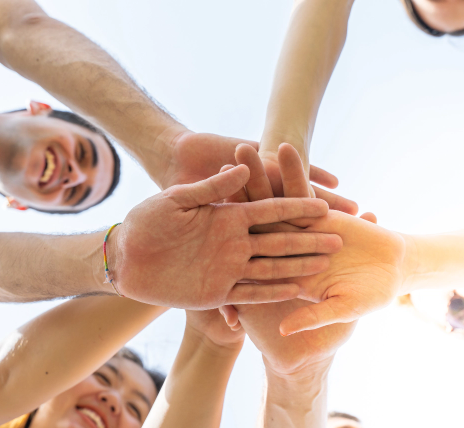 6
We adapt our neighbourhood developments to climate change, for instance through the sponge city principle and retention areas, clever urban planning for the passage of fresh and cold air, green roofs and facades, and cooling green spaces and water areas.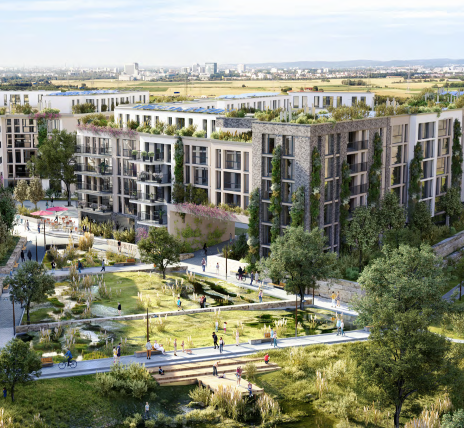 7
We ensure a CO2-neutral energy supply by using geothermal energy, photovoltaics or other non-fossil energy sources, if possible in plus-energy houses.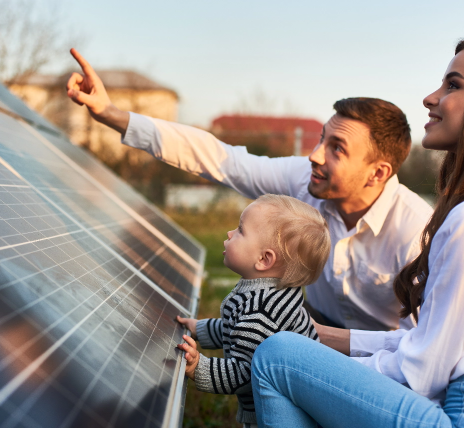 8
Not only do we respect the requirements of nature and species protection, but also optimise the conditions for flora and fauna as far as possible.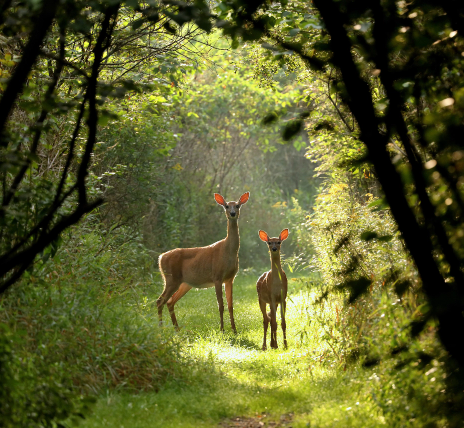 9
We build according to the cradle-to-cradle principle, i.e. we use environmentally friendly building materials that can be reused so that at the end of their life cycle they can be put to another purpose and something new can be created.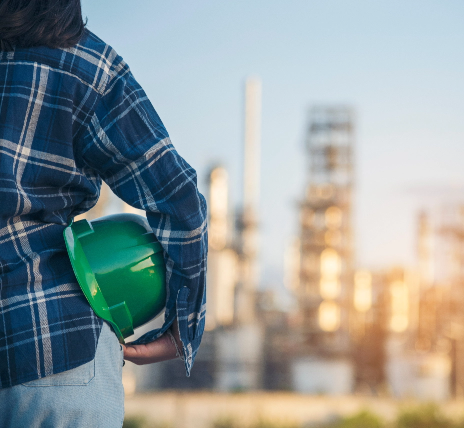 10
Smart digital solutions are not only used in innovative energy and mobility concepts. Using a neighbourhood app, residents and users have quick access to service and neighbourhood offers.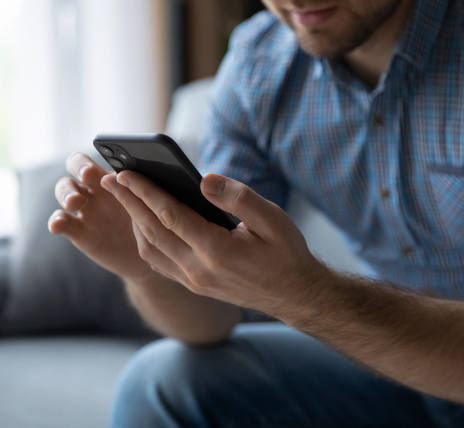 11
Our neighbourhood management focuses not only on administrative tasks, but also on measures for social integration and the creation of a community spirit.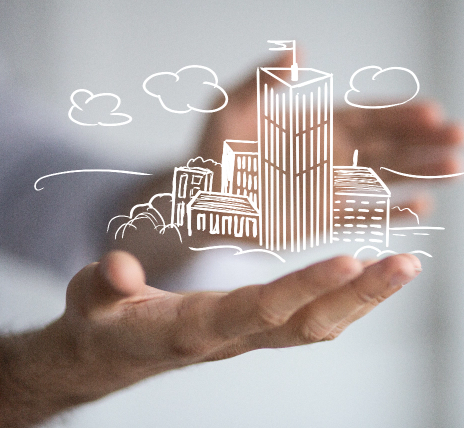 12
We are open to suggestions and also criticism from our stakeholders and try to take these into account in our planning - as far as they are sensible and viable.